Thursday, August 31, 2017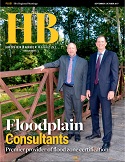 The
September/October Hoosier Banker
profiles Floodplain Consultants' Wayne Capek and Craig Callahan, puts a spotlight on regional meetings, advocates for regulatory relief, and much more. Fully interactive, HB Digital features one-touch connections to IBA videos, photo galleries and registration opportunities.
All IBA members and associate members may subscribe at no charge. To start your HB Digital subscription, or to convert hard-copy subscriptions to digital-only, send a request to
HB@indianabankers.org
.