Thursday, September 13, 2018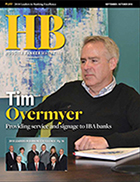 The September/October issue of Hoosier Banker features Tim Overmyer, president of longtime IBA associate member Vanadco Signs Inc. Additionally, highlighted in this issue are nine members of the inaugural class of IBA Leaders in Banking Excellence.
Also in this issue:
    - Leadership insights, including credit union taxation issues;
    - Introduction to IBA's new VP-government relations;
    - The recently reprised Indiana Bank & Thrift Stock Update column. Attached is a detailed spreadsheet of Indiana statistics, available through HB Digital; click to link directly.