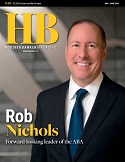 The May/June issue of Hoosier Banker features Rob Nichols, president and CEO of the American Bankers Association, as the first of a two-part cover story series. The upcoming July/August issue is to feature Rebeca Romero Rainey, new president and CEO of the Independent Community Bankers of America.
Of special note, this issue reprises the popular Indiana Bank & Thrift Stock Update column, with a link to detailed statistics online.
This May/June issue also highlights:
Insights from IBA leadership, including the 2018-2020 IBA Strategic Plan;
IBA Future Leadership Division updates;
A review of the 2018 legislative session;
A farewell from Cam Fine, retired ICBA president/CEO;
Perspectives from IBA Preferred Service Providers;
Articles relating to compliance, human resources and other banking topics;
Bank personnel news – hires, promotions, board appointments, etc.
Convert to an HB Digital Only Subscription
HB Digital is interactive, with live links to all website URLs and email addresses, plus links to additional information and videos. To start your HB Digital subscription, or to convert hard-copy subscriptions to digital-only, please email your request to HB@indianabankers.org.